I remember being a child and getting my first advent calendar. I was so excited at the prospect of opening a compartment every day in December, always finding chocolates with surprise seasonal images. As the years passed, however, I grew accustomed to the tradition and it began to feel a bit repetitive. I'm never one to refuse chocolate, but I couldn't shake the feeling that there must be a way to spice up the flimsy cardboard calendar. Well... 'Tis the season for creative reuse!
Advent calendars don't have to conform to the typical perforated cardboard medium. In fact, it's fun and easy to construct advent calendars for your own friends or family members with a wide variety of salvaged materials.
This gorgeous piece by
Alex
from
North Story
consists entirely of bath tissue rolls, mix-and-match ribbons, and small ornamental tags. Every piece of this project is either recyclable or reusable, and each parcel feels like a miniature christmas gift to the recipient.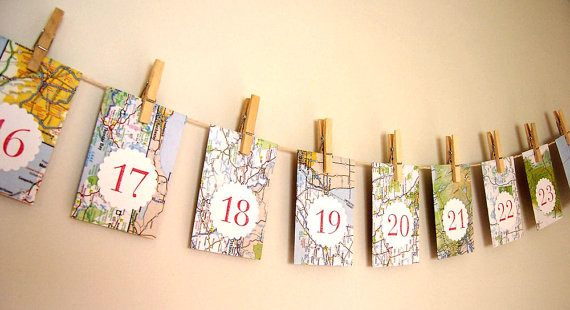 This advent calendar functions both as a daily treat system and as a decorative wall piece. Each small envelope is made from recycled roadmaps, and is hung from twine by reusable clothespins.
This creative piece by
OhSoSavvyMom
disguises daily treats under cloth-covered mason jars. The jars themselves are both reusable and recyclable, and the fabric on top could come from any used tablecloth or T-shirt with a seasonal color palette. In addition to repurposing discarded materials, this piece also functions as a holiday decoration in the shape of a fir tree.
These are just a few examples; really, you could put together a beautiful and unique advent calendar with just a few recycled materials and a bit of creativity. Advent calendars exist to give children and loved ones something to look forward to during each cold day leading up to the new year, and these home made projects are much more engaging and memorable than a store-bought cardboard box. Wouldn't you say so?